Yes, it's true. Phyllis Diller had a flag (and why do I feel like I want to add "e-i-e-i-o"?) and on that  flag she had a rose (e-i-e-i…).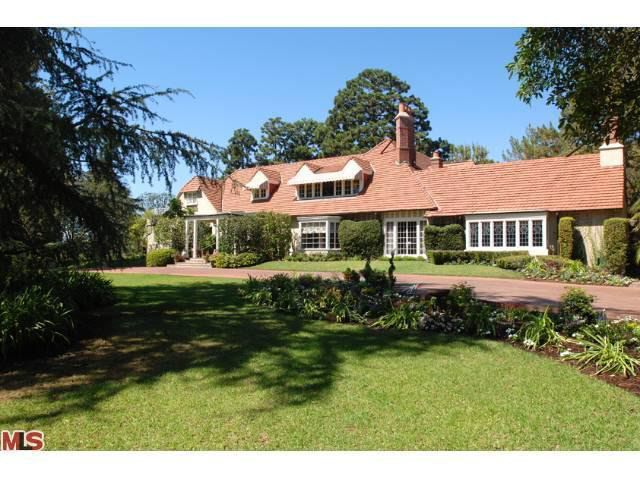 Phyllis named her house Rosewall West because she had bought a lot of the furnishings from a house on the east coast named Rosewall. Hence, the rose on the flag. Phyllis had this flag specially designed for her and made at the same factory — I think in New York — that made the official U.S. flags that fly over the Capitol and the White House. It was not an elaborate flag — white with a lovely, large pink rose. The idea was that the flag would fly whenever Phyllis was at home, rather like the flag over Buckingham Palace which flew whenever Her Majesty, Queen Elizabeth, was in residence. (In fact, now that I think of it, Phyllis once signed a note to me "The Queen.")
It was the job of Mack, the gardener/handyman to run the flag up the pole and take it down. The flagpole is unfortunately not visible in this picture — it's behind the large pine tree just opposite the front door.
Did Phyllis Diller really compare herself to the queen? No, not really. She knew exactly who she was and was quite happy as America's premier comedienne. Although, now that I think of it, she did have some of the same qualities as the queen. For one thing, Phyllis insisted on always carrying a purse even though there really was no need for that when she traveled. She always had a secretary (me!), her husband, and one or two others in her entourage.
Phyllis was quite excited the day the flag arrived. I remember her opening the package and spreading it out on the sofa in the living room. A large nylon flag that I thought was quite plain with just the rose in the center and I think — but don't clearly remember — that it had the name Rosewall West embroidered underneath.
As with many things that seem like a good idea at the time, the flying of the flag was pretty much a flash-in-the-pan. It became tedious, I suppose, for Mack to remember to take it down when she was gone and put it back up when she arrived home, and after the initial infatuation and excitement had worn off, Phyllis lost interest. I think it flew when she had company or for parties, but it was no longer an everyday thing.
I thought of the flag this morning for no reason at all. I wondered what happened to it. I'm guessing it's in a box somewhere with so many of her belongings, perhaps inventoried and catalogued, waiting for the day of the auction when Phyllis's things will be sold. I wonder if it will be sold separately, "… and now, ladies and gentlemen, Phyllis Diller's personal flag …" or it will be bundled with a lot of other things as "Lot #138, miscellaneous household items." And why do I care? I don't know, but somehow I do and it makes me sad. She enjoyed it while she had it now perhaps someone else will enjoy it, too. I hope so.
Shameless plug: check out my book "Beyond the Spotlight: On the Road with Phyllis Diller" on www.Amazon.com